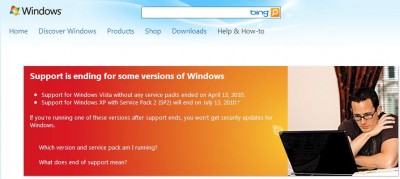 If you haven't already heard, tomorrow is quite an important day for Microsoft Windows XP Service Pack 2 users. After tomorrow, Microsoft will no longer be providing automatic security updates for this version of their operating system. More information about this in my post last month.
If you're really concerned about this issue, the easiest fix is to ditch XP, right? But it is totally understandable if you do not want to do that just yet. More so, there are ways by which you can continue to enjoy a relative degree of security while continuing to use XP SP2. Here are some tips.
Stick to XP, but upgrade to XP SP3. This version will continue to receive automatic updates till August of 2014 – that's a long way off. You can either download and install SP3 using Windows Update, download a disc image (for use in more than one machine), or buy the installation CD (only $3.99).
If you really want to continue using XP2, here's a simple fix that can increase your security: stop using Internet Explorer, if you haven't already. I know very few people who continue to use this Internet browser for so many practical reasons. If I were you, I'd go with Chrome of Firefox (which has a new beta, by the way).
Here's a no brainer – make sure your anti-virus software is up-to-date and reliable. This is assuming that you already have one installed. Even the free ones are pretty good, and they usually prompt you for updates anyway.