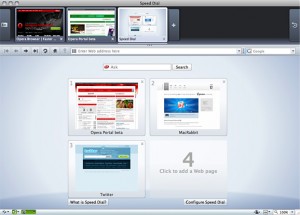 Alright Mac users, if  you're tired of using the stock Safari browser on your machine but you don't feel like using Google Chrome for Mac or Firefox, how about Opera 10.50 for Mac which is now available for download?  This new version of Opera for Mac is said to be using a new Javascript engine and boasts of key features like HTML5 support and multi-touch gestures.
Honestly, I've never used the Opera Browser on a laptop or desktop before. The only time I used it was on my old Sony Ericsson P990i mobile phone. But that was a long time ago. For all I know, both the Opera Mini browser for mobile phones and the Opera desktop browser have probably gone through several revisions already.
Anyway, here are the new things that you should expect in the latest iteration of Opera browser for Mac:
More stable than the pre-alpha build
A whole new polished UI
Supports Opera Unite allowing you to download unite apps from the Unite Apps Repository
Supports HTML5 tag
Supports widgets as stand-alone apps
New menu for Developer Tools
Now, why did we say that Opera 10.50 for Mac might make you forget about the Safari browser that comes preloaded in your Mac? Well, blame it on the guys from 9 to 5 Mac who've tested the browser and found that it beats Safari in a WebKit Javascript benchmarking test.
You may want to give Opera a try on your Mac, get it from here.
Originally posted on February 26, 2010 @ 1:31 am