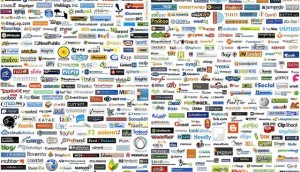 I don't know about you, but I think this whole thing about using -calypse as a suffix is getting old. Still, I couldn't stop myself from digging deeper when I encountered the term "sharepocalypse".
I don't know where the term originated, but I first saw it in an article written by Nova Spivack, which was published by Mashable. The idea is very simple and not surprising at all: "In the Sharepocalypse hundreds (if not thousands) of online friends share content with us across various social networks, culminating in massive information overload. Our lives will become more fragmented, we will lose productivity, and we'll perpetually be playing catch up." ((Article))
Think about it. How many social network accounts do you have? In how many of these networks are you active? Let's be more specific, when you update your status and/or post links/photos, how many platforms do you use for the same content? [Read more…] about Are You Ready for the Sharepocalypse?