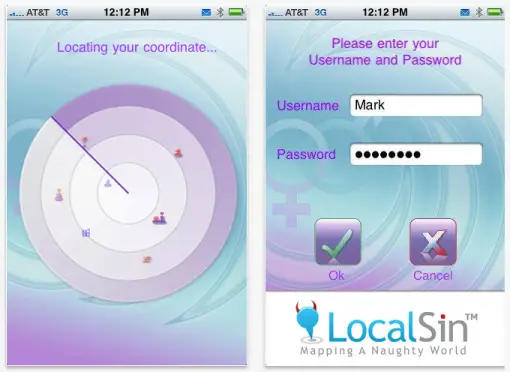 As if having a web site allowing only beautiful people to become members weren't good enough, someone just had to create an app for singles who are "willing" – whatever that means. There is now an app available in Australia, the United States, and the United Kingdom which allows singles to find other singles in their area. It doesn't stop at the idea of being single, though. The main goal is for the app to replace the need to go bar hopping to find someone to take home with you at night. Or at least make the experience easier, thanks to technology.
The iPhone app is called LocalSin, ((LocalSin Lite)) and the lite version is available on the iTunes store for free. Now that should make the app more palatable for a lot of people, don't you think?
What does this app do specifically (I know some might be stuck on the prospect of finding a partner for a one-night stand without much effort)? So you log into your account, and the app determines your location. You can then check how many other singles are in a particular place – a bar, a club, or whatever. The premise is, obviously, those that are logged in are likeminded individuals. They are also looking to meet single people like you.
More than simply stating that you are single, however, you are able to give specific details. These details enable the user to pick out a compatible person from the thousands of people who are logged in.
You think it's ridiculous? I couldn't agree more with you. I mean, I totally agree that we should take advantage of technology as much as we can, but when you have to rely on an app to find matches on a night out, then something does not add up. Still, I am pretty sure that there are a lot of people who will disagree with me. If the tens of thousands of users of the app (internationally) are anything to go by, then I am totally wrong. Oh, and what do you think about the word play used in the app name? (No comment.)