Or maybe it should be Pokemon does Dr. Seuss. Whichever way you see it, the results of the Draw2D2 Dr. Seuss-Pokemon Mashup which was held in the past two weeks are worthy of viewing over and over again. There isn't much to be said about the "contest" – the contributors of the blog were simply tasked with coming up with original art work that would put elements from Dr. Seuss and Pokemon together.
As they say, one's imagination is the limit. And boy, do these people have awesome imaginations! If their work is anything to go by, there should be some pretty interesting worlds and characters in their heads.
There are several pieces showcased in the blog ((Draw2D2)), but here are the three that I like the most.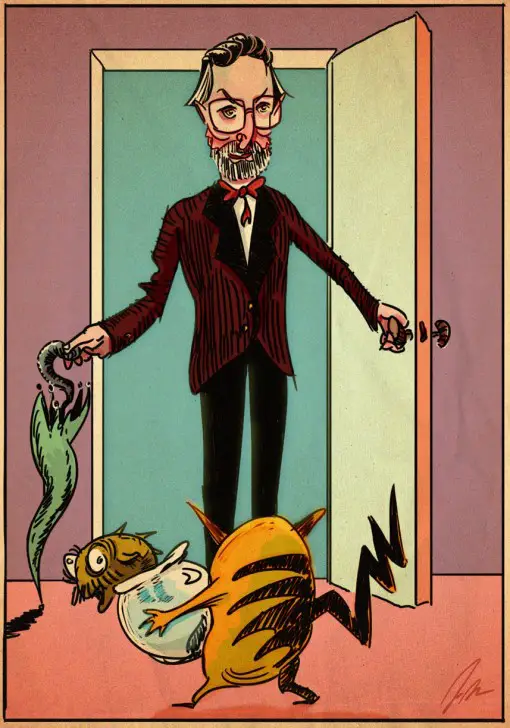 This is by Ian Brauner. Dr. Seuss meets Pikachu and fish. I don't know, but the fish reminds me of Klaus (Heissler) in American Dad. And don't you just love the umbrella?

This is by Andy Hunter. Seusemon, indeed! I can't decide which I like better – Grinkachu or Hortopillar. On the one hand, Grinkachu sounds so much better, but Hortopillar looks better visually.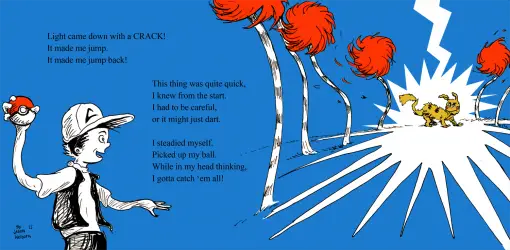 I think this is the best of the lot – it's drawn by Jason Welborn. The art is simple but the rhyme that goes with it is superb. Click on the image to better read the text. Theodor Seuss Geisel himself would be proud of this work, don't you think?
I think these guys should put their heads together and make their own version of not-so-common children's books.