For some reason, I have always had a good relationship with my math teachers in grade school and high school. Now college professors were always touch and go – with all the math courses I had to take, I was bound to meet one or two that didn't exactly become a bosom buddy. In any case, one thing that bugged me about certain branches of math was the fact that they didn't seem to have immediate practical applications. All those equations and computations just seemed fruitless to me as a student who wanted to make something useful. I am sure many students have felt – and feel – the same way.
If it were up to this particular math teacher, though, I bet that students would have more practical applications of what they learn in class. Or maybe not.
What's for sure is that he found some free time in his hands, a whole lot of pencils – 80 of them, and different kinds of glue. Throw in some geometric principles and a dash of inspiration, and this is what you get.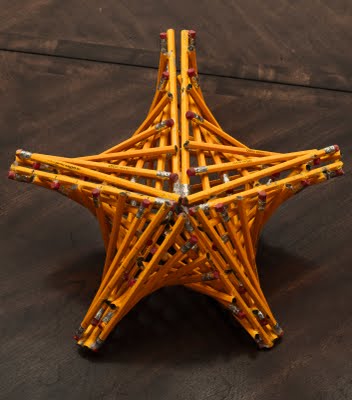 That's called the STAR – Standardized Testing And Reporting, which is actually the test that his students are taking this month. (That's where some of the inspiration came from!)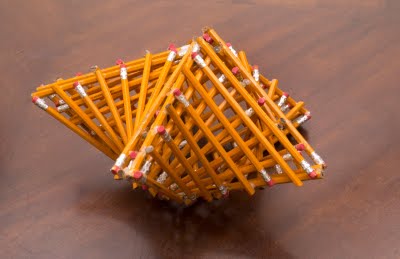 This is the same sculpture taken from a different angle.
In his blog, Mister Math Teacher ((An Ocean of Knowledge An Inch Deep)) talks about other sources of inspiration: work by George Hart ((Geometric Sculpture)) and Carlo H. Sequin ((Carlo H. Sequin's Web Site)). He also reveals just how he got his pencil sculpture made. If you have an excess of pencils, why not give it a try?
Now I wonder if his star pupil will get the sculpture at the end of the academic year?