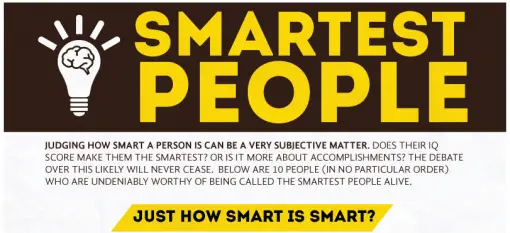 Forrest Gump's mom is known for one of the smartest quotes ever: "Stupid is as stupid does."
The label I used may be arguable, but there is some truth to that saying, isn't there? After all, how many "smart" people do you know who don't seem to get their act together? And how many "stupid" people do you know who are well-loved by everyone who knows them?
Still, those who've got the smarts deserve admiration and respect – recognition at the very least. The guys at Super Scholar threw some ideas, numbers, and facts together to come up with the 10 smartest people alive today. For sure, you can rattle off a couple of names off the top of your head, but why not check the infographic out to see if you have the same people? [Read more…] about Smartest People: Just How Smart Is Smart?