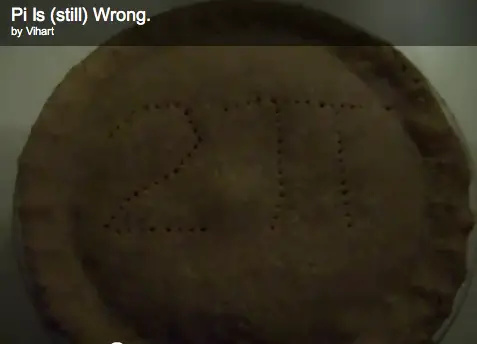 I am going out on a limb here and throw a challenge to hardcore Pi lovers out there.  It feels weird, to be honest, as I have made it a point to "celebrate" Pi Day ever since I heard about it.  In fact, yesterday, I joined countless other people around the world in making a toast to 3.1415…
One day after International Pi Day, however, I discovered a video by Vi Hart, who is a self-proclaimed anti-Pi person. So why is Pi wrong? Allow Vi to explain it all to you – with a nice looking raspberry (I think) pie to boot.
Indeed, every math student who had to struggle with all those formulas might agree with Vi.  I have to be honest and say that I love how Vi neatly illustrates how Pi makes things confusing.  Still, I am not about to abandon the idea of celebrating Pi every year.  If, however, you want an alternative to Pi, check out The Tau Manifesto.
Via Vi Hart