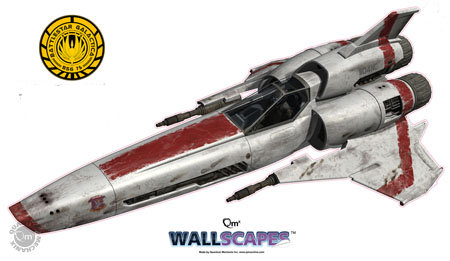 Tired of looking at a boring plain white wall at night when you can't sleep? You're not alone. I bet that you and I, together with countless other people, have the same issue. It's difficult enough to amuse yourself when insomnia strikes, but that blank thing of a wall makes things even worse.
That's why online stores like QMX are useful. Guess what I found today? A WallscapeTM that will delight you to no end. A WallscapeTM is a fancy name for a wallpaper or a decorative sticker for your wall, but depending on the design, you will get your money's worth. The WallscapeTM that I stumbled upon today features nothing less than the Viper Mark II.
Battlestar Galactica fans will know that this fighter was the primary attack craft used by the Colonial Fleet in the first Cylon War. This fighter continued to be effectively used against the Cylons when the Twelve Colonies were left behind.
You may never get a life-size replica of the Viper Mark II in your bedroom, but you can always get this WallscapeTM to help your imagination along. Forty-eight inches of space fighter goodness, with an incredible amount of detail, on your wall – it will be easy to imagine that you are Lee Adama or Kara Thrace as you drift off to beddy-bye land.
The WallscapeTM is based on the original studio 3D digital model of the Viper Mark II, and it even includes details such as scars from battles. It's really something that any decent BSG fan will want on his wall. And for $49.95, it is not such a bad deal. That's a small price to pay for the peace of mind that having a fighter at your disposal in case the Cylons under your bed decide to go on the offensive. 😉