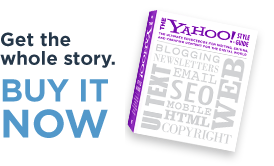 Writing for the web is not an excuse for poor writing. This has always been a problem since there are a lot of bloggers and web site writers who have great ideas and excellent know how, but are sorely lacking in writing skills.
On the other hand, there are some good writers – in the traditional sense – who have encountered problems when writing for blogs and other web sites. Tech terms may prove to be difficult; formatting is another issue; and the list goes on and on.
Unlike academic writing, there really are no clear cut rules about writing for the web. Well, there are many rules – it's just that we haven't all agreed on one particular way of writing. That is, until Yahoo published its own Style Guide.
I am not that big of a Yahoo fan, but I am quite impressed that they took the initiative to create this Style Guide. It contains a huge amount of information covering the many aspects of writing for the Internet. From word lists (e.g., it's 3D and not 3-D) to formatting tips to tips on how to write strong headlines – the Style Guide has a lot to offer.
Now I haven't had the time to look at the Style Guide intently, but it does look promising. Access Yahoo's Style Guide, the online version, and see for yourself. If you want the hard copy, you have to wait for it to be released on the 6th of July. I am happy to take a look at the online version first.
Let us know what you think about it.