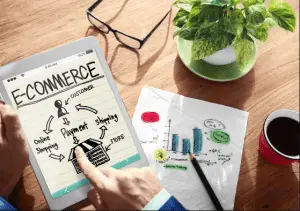 If you read the latest retail statistics it's easy to see why there's a lot of excitement surrounding eCommerce. Every year eCommerce takes a larger piece of the retail pie. It's also a much more cost-effective way of launching a retail business compared to traditional brick-and-mortar stores.
But if you're planning on getting in on the eCommerce game, it's not as simple as creating a WordPress website. For starters, you need to have a product that people are interested in buying. Once you have that figured out, there are a number of additional steps that needed to be taken to improve your odds of eCommerce success.
Reliable Payment Processing System
In order to make money with an eCommerce business, you have to be able to process payments when online purchases are made. Today that means putting a payment processing system in place that can work across platforms and devices.
The best option is to get a global payment processing system. That way you can take full advantage of being online and attracting customers from all over the world. Some payment processing systems also come with additional perks. Smart eCommerce business owners know they can get more for their money by opting for a system that provides extra security measures and management tools.
Website Design That Encourages Shopping
Creating a successful website design depends on the type of business you have, what you offer and what you want users to do on your site. For an eCommerce website the design needs to be focused on showcasing the product and making it easy to purchase.
Your website designer needs to be familiar with not only the best practices, but also how design elements move users down the funnel and eventually to the checkout page. The design has to entice users and simultaneously stay out of the way so it doesn't interfere with a sale.
Rock Solid Cybersecurity
In recent years, businesses have come to realize how important cybersecurity is for success. Even large, well-established companies like Home Depot and HBO are susceptible. Cyber security breaches are getting more sophisticated and disruptive, which means businesses have to put more effort into protecting their information and online systems.
Given that many hackers use old viruses and malware to disrupt businesses, even basic anti-virus software programs are better than nothing. But solid cybersecurity is both offensive and defensive. It should include firewalls that prevent problems, alert systems that let you know the second something happens and strategies for quickly handling a security breach.
Stellar Customer Service and Support
These days customer service and support mean more than ever. Unhappy customers can wreak havoc on your ratings with just a few clicks. Those reviews and ratings then influence others that are trying to decide where to do business. Research has shown that it takes about 12 good reviews to make up for one bad review.
In general, you need to make it company policy to provide exemplary service, but there are also tools that can help make that easier. Customer relationship management (CRM) software programs are one way to build a base of loyal customers that will sing your praises. A CRM can be synced with your website to trigger responses. For example, you can create an email that is automatically sent the second a customer makes a purchase.
Businesses also have to be active on social media and review sites. This not only gives you a way to interact with customers, you can also monitor what people are saying and jump in quickly if someone experienced a problem.
It's also important to anticipate needs and give customers ways to help themselves. A simple FAQ page can answer questions so shoppers get the information they need quickly and it eases the workload on you or your call center.
Online Marketing Plan
The good news for new eCommerce businesses is marketing tends to be cheaper online. You can also track performance and change ads on the fly without increasing your marketing budget.
Since your customers are buying online you'll want to have a healthy presence in search engines, social media and websites that are popular among your clientele. Knowing where your customers are requires a bit of research, but it pays off in higher conversion rates.
Taking time to create a genuine marketing plan is also extremely important. Social media is a perfect example. Too often eCommerce business owners think simply starting social media accounts is the lion's share of the work. In actuality it's just the start. Successful social media marketing hinges on rolling out targeted content that directs followers and regularly interacting with users.
Follow these five best practices and you'll be off to a good start with your eCommerce launch.
About the author:
This post was written by Shah, a professional writer and blogger interested in writing about various aspects of SEO, marketing, tech and design on Designermag.org. You can join Shah at Google+or Twitter.