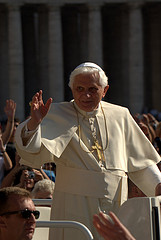 I am sure you've heard of the current Pope's visit to the UK.  While we have devouts on one end of the spectrum, there are also critics on the other end.  It's a fact of life – you can't please everyone.
This post is for Catholics who lean towards the developments in technology, courtesy of the Telegraph.  They put together a list of iPhone apps that would certainly catch your fancy.  I am not a Catholic, but I would be interested in getting hold of these apps if I had an iPhone/iPod Touch for cultural/educational value.
For $0.99, you can get this app which will give you all the information you need on the Roman Popes – from Saint Peter to 2010. Think about it, even non-Catholics just might find this kind of information useful.
Even though I follow a different faith, I have heard of the Way/Stations of the Cross many times. This app serves as a guide to all the stations of the Cross and also includes passages from the Scriptures. It should prove to be useful come Lent.
Think of this app as high tech Rosary Beads. This app can take you through the whole Rosary, complete with tactile feedback via the vibrate function.
These are only three of the apps that the Telegraph listed, and I am sure there are more out there. In keeping with the spirit of the Pope's visits, then I suggest downloading these apps for your iPhone/iPod Touch. After all, technology doesn't have to clash with faith, does it?