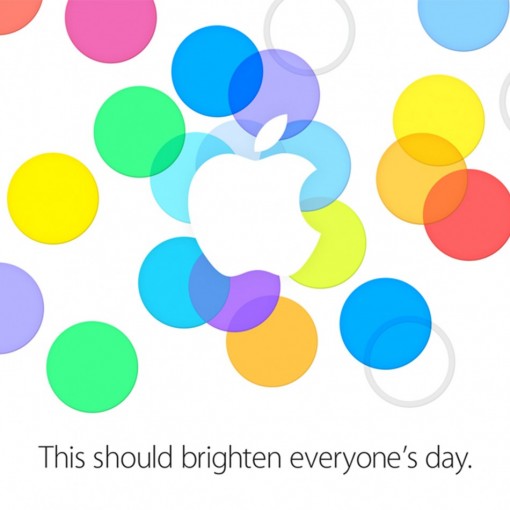 September 10th has been officially announced as Apple's next big seminar event, with sites like The Verge proudly flaunting their invites online. Naturally, rumors abound about what new product Apple will unveil—with some being more plausible than others. With competitors like Samsung moving into the smartphone and tablet arena, a space Apple founded, some Apple supporters are calling for Apple's next big innovation. iWatch anyone? However, if Apple's leaders are smart, which they are, they will realize that their success has never been driven by their competitors, but by Apple's own brand and inventiveness.
While Apple may surprise us with something completely revolutionary, September's event is more likely to focus on improving the iPhone. The iPhone 5 will be replaced by the iPhone 5s and iPhone 6, along with what's been dubbed the 5c—a low cost option that uses a plastic shell and comes in four colors: blue, red, yellow and green. The creation of the low-cost option seems likely, as Apple has been under pressure from countries like Brazil to offer a more cost-competitive model. However, low-cost will most definitely still be far from inexpensive. After all, Apple doesn't do cheap. Period.
According to predictions from Mingchi Kuo, Apple will also debut a new gold-colored option for the iPhone. Kuo has a good track record with his predictions, and with photos of a gold case being leaked, a gold iPhone will surely appear in the near future. The new phone is sure to have a new and improved camera, as there have been plenty of complaints about the current one, and a faster processor is also a given. A big speculation is that the new phone will have a fingerprint sensor on the home key in place of a password to make it easier for the owner to access a protected phone. The idea is that you would set up your fingerprint when you first buy the device and then simply place your finger on the phone key to wake it up and unlock it. Rumors about this kind of technology have come up before, but with pictures being leaked, it would be a good bet to hear it mentioned on the 10th.
Changes to the iPad will most likely be announced after the event, but it seems certain that the new iPad will be thinner and the iPad mini will get a high resolution screen. Some speculators argue that the iPad will get a large, 13-inch screen to accommodate users who frequently watch movies on their tablet, but unless Apple significantly lowers the price, the difference probably won't seem worth it, as the MacBook already features a 13-inch display.
While the idea of Apple essentially creating a watch that completes all of the same functions of an iPhone sounds exciting, it probably won't be part of the big unveil this year. Wearable technology does seem to be the next arena, with Google coming out with Google Glass and Samsung also looking into similar possibilities, but I believe the technology for a fully functioning iWatch that the fans are dreaming of is still yet to be developed, and an unveil of an incomplete idea hardly fits Apple's business model.
Needless to say, the eyes of the tech world will be on Apple Sept. 10 to give them a clue of where the company is going. No doubt there will be plenty of articles speculating what Steve Jobs would have done differently, but the reality is that Apple has to ignore these speculations and the pressure from their competitors, and stick to innovation and high standards..