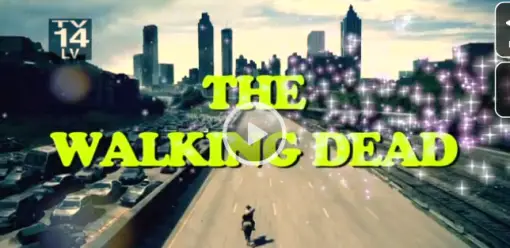 What if the zombie TV series "The Walking Dead" were made in the 80s? Would it have turned out to be better, or would it have become even worse?
There is no doubt just how big the TV series made it, but we also cannot deny the fact that it has its fair share of dragging moments. Heck, okay, it has more than its fair share of dragging moments. Even the first season dragged on for a while there. After season 2.5, I guess practically everyone will agree with me. Of course, there are the scenes will which forever make one think that the series is still worth watching. Think of the last episode of season 2.5. That was intense.
But what if "The Walking Dead" were made during another era? Say, the 80s? How would that have turned out?
Well, there is no need to wonder. The guys at MovieWeb had some time on their hands, and they cut scenes from the the series, changed the fonts, and added a different kind of music. 80s music, of course. The result is something terrifyingly reminiscent of a sappy 80s sitcom. Oh, wait! I am sure you will recognize the music used, if you were a kid watching TV in the 80s. See for yourself.
And just in case you are left wondering that the heck that was all about, that is a mashup of "The Walking Dead" and "Growing Pains". While it is not painful at all to watch – I think it's rather amusing – it makes you wonder about all those hours spent watching the show. Surprisingly, I think that I am not that averse to going through the old episodes again if I find myself with nothing else to do. That, or get gear together in case the zombiecalypse actually happens.