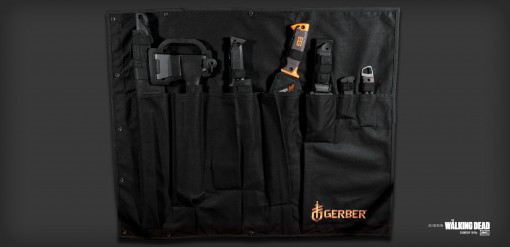 The Walking Dead has become so popular that it was only a matter of time that we see gear from the TV series that can be bought – and presumably used – in real life. I used to be all over The Walking Dead, but after the first couple of episodes of the second season, it lost its appeal for more than one reason. In any case, from the comments I have been seeing on Facebook and Twitter, it looks like the show has been dragging for a while now.
Still, there is something about the story that gets one interested. I am sure I will pick it up again some time in the future. In the meantime, this cool gear as seen on the show has caught my attention.
Gerber Gear has released an Apocalypse Kit, which is actually the gear that is used in the TV show. The Apocalypse Kit contains the following:
Gator Machete – a machete with a two-pronged attack; it has a sharp edge and a serrated edge. With an 18-inch blade, no walker would survive a strong swing of this machete! If bought separately, this costs $23.
Camp Axe II – for $52, you get this deadly axe with a head made of forged steel. After all, you never know if you'll find yourself in close quarter combat with a zombie.
Gator Machete Pro – this is a machete and axe combined into one handy weapon. It costs $53 and has a 10.5-inch blade. The handle is rubberized for extra grip.
Parang – modeled from a traditional jungle machete, this weapon will cut through walkers like a hot knife through butter. With its 13.5-inch blade, you'll have a long reach as well. You can have it for $43.
LMF II Infantry – this small knife can be used for practically any purpose although you probably can't hack a walker with it and not get bitten. It's perfect for other survival activities.
DMF Folder – Similar to the previous weapon but this has a serrated part and is foldable.
Epic – Titanium nitrade-coated blade is all I can say.
This set is available for pre-order at Gerber Gears and will ship on the 5th of December. That leaves you a lot of time to wrap it up for Christmas! Oh, and hurry as there are only 200 kits to be sold.