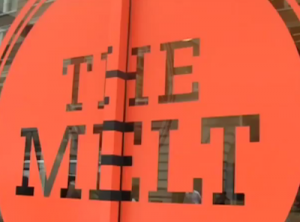 I have always been curious about the Flip camcorder. It was rather popular, and it seemed like a very handy thing to have with you wherever you go. The only reason I didn't buy one is that I didn't feel the need to spend more money on another gadget. Now the product line has been killed, to the dismay of many. (I don't know what the situation is in your area, but here in my city, I can still see Flips at the stores.)
Anyhow, I had stopped following news about this product a long time ago, but I couldn't resist when I saw a piece at Business Insider about Jonathan Kaplan, the founder of Flip. (Granted, the product line was shut down under Cisco and not Kaplan's management.) So anyhow, in case any of you are wondering what Kaplan has been busy with since he and Flip parted ways, this is it: grilled cheese.
Yes, that was not a mistake. Kaplan is now investing his time and efforts (and presumably money) into a chain of restaurants specializing in the grilled cheese. The chain is named The Melt. I kid you not. If you are quick on the draw, you might already see the links between Flip and grilled cheese. If you're still waking up, just watch this video, which will give you everything you need to work with to figure it out.
Still not getting it? Seriously, this can be the source of inspiration that you tech heads with an entrepreneurial spirit have been searching for. The founder of one of the most popular gadgets leaving that world to try his hand at selling grilled cheese. As Pascal-Emmanuel Gobry says in the Business Insider article ((Source)), chain restaurants are technology companies at the core. Money quote:
"Kaplan went with grilled cheeses because he found machines that press and grill a grilled-cheese sandwich in record time, which ensures fast turnover, which improves profitability. The grilled cheese comes with soup because it's cheap, and easy to store and manufacture. You can order from your iPhone, again, because this improves turnaround time.
It's a manufacturing and technology process. It's really not that different from making portable cameras."