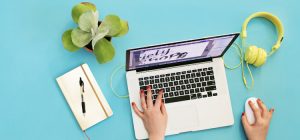 You don't need a business to build a blog, all you need is something to say. Blogging can increase sales and popularity for a business, but it can also give you a place to share your feelings and/or your knowledge. Your blog can be a place for your own catharsis and it can be a place where you help others as well.
Blogging for yourself is kind of like journaling, but online. If you create a blog others can see and read it lets you help people and get an audience for the things you want to talk about. Why do this? Here are some ways blogging can help your life!
Make You A Little Money
Blogging can actually make you some money, you just need to know how. You can make money through ads, pay-per-click, and even by charging for people interested in submitting guest posts to your site. You could also look into affiliate programs that fit in with your type of blog.
You could also get some free items if you are reviewing things on your blog or doing tutorials on items. Fashion bloggers and beauty bloggers are always getting freebies to talk about on their blogs.
Allow For Some Personal Time
Blogging gives you some time to send with your own thoughts and on your own time. You can reflect on what you did that day or that week. Personal time is important and blogging or journaling can be kind of like meditating.
Lets You Get Things Off Your Chest
It also lets you get the things off your chest that have been building up in your mind. If you just fell in love you can use your blog to talk about the experience. If you just got divorced you can talk about what happened and even tips you've learned throughout your divorce.
You can vent on your blog or even gush on your blog. It's all up to you. Just make sure you think of who might be reading it!
A Way To Share Your Knowledge
Blogging is an excellent way to share your knowledge with others. You can blog about anything you want, and make it as personal as you want. Just make sure that you are paying attention to what your readers have to say.
If you want your blog to become something that people come back to and share, and maybe have a post or more go viral, you want to make sure that you are blogging about things people want to read about. You also want to make sure that you are making sense in your blog, that you are researching any factual and non-personal things you are posting about, and that you are putting love into your blog because people will be able to read that in what you write.