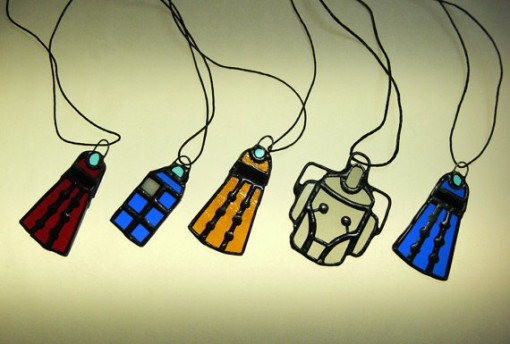 Who can't get enough of
Doctor Who
? You're probably squirming in your seat just thinking about the upcoming Christmas special. Who isn't? But here's another thing – or set of things – that will feed your Doctor Who obsession: Doctor Who ornaments from Etsy Shop GeekyGlass.
It might be a tad late to order these ornaments for your Christmas tree – unless you don't mind adding ornaments next week. Still, these Doctor Who ornaments can be used for other purposes, or even for next year's Christmas decor, if you're the type to prepare for the holidays way in advance. Check out one way by which the ornaments can be put to good use.
As you can easily imagine, a party with fellow Whovians will be much better with some of these Doctor Who ornaments out in the open. All throughout the year, any occasion will be perfect for these ornaments.
The caveat: this set is limited edition, and there is only one left. Also, it does not come cheap at USD125. The Doctor Who ornaments measure in at about 2 inches (5cm) high. They are made of glass, making them perfect if you like playing with lighting. Each ornament also comes with a black hemp cord, for hanging up, if you choose to do so. Actually, if you think about it, you can even use an ornament as a pendant, if you are into that kind of thing! Just be careful that the ornament doesn't touch your skin for long period as lead solder was used to put the ornaments together.
Check out the GeekyGlass shop.