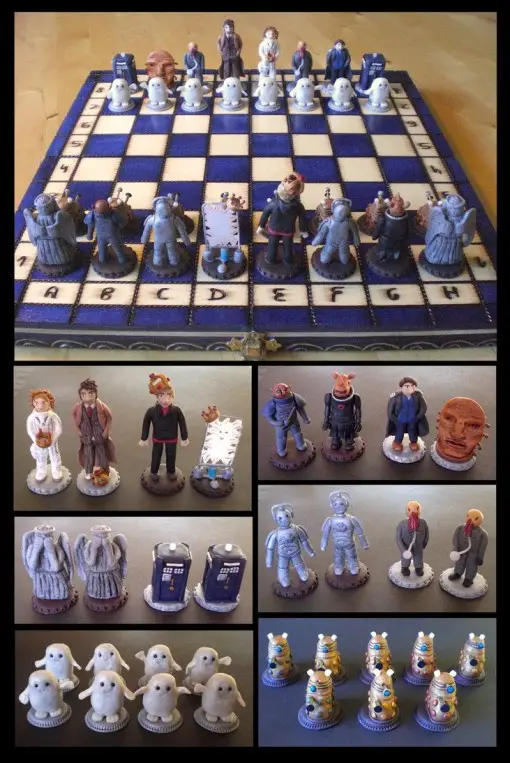 Christmas is almost upon us, and fans of the Time Lord have marked their calendars for the Christmas special for sure. In the meantime, there is nothing we can do but wait for that momentous event. There are, however, lots of Doctor Who stuff we can find online that will whet our appetites while we wait.
This Doctor Who Chess Set is definitely one of them. Even if you do not like playing chess, or if you are no good at it, the idea of owning such a chess set should be an appealing one. In the worst case, if you cannot navigate the ins and outs of this game of minds and strategy, you can always lovingly play with the chess pieces. For sure, you will not feel time passing by as you marvel at the details of this Doctor Who Chess Set.
The brains behind this is DeviantArtist EldalinSkywalker. He says that all the pieces were made from scratch – I really didn't expect anything less – and that the tallest pieces are the kings, which are 2.75 inches tall. On the other end of the spectrum are the Daleks at 1.2 inches.
Check out the character list.
Evil side
King: The Master
Queen: Lady Cassandra
Bishops: Cybermen
Knights: Judoon & Sontaran
Rooks: Weeping Angels
Pawns: Daleks
Good side
King: The Doctor (Ten)
Queen: Professor River Song
Bishops: Ood
Knights: Captain Jack Harkness & The Face of Boe
Rooks: Tardises
Pawns: Baby Adipose
Now you might be wringing your hands, and your mind might be racing to figure out how to get your hands on the Doctor Who Chess Set. Who wouldn't? Unfortunately, the set has been sold to one lucky person. Perhaps, though, you might be able to convince the artist to create a special set for you. 😉