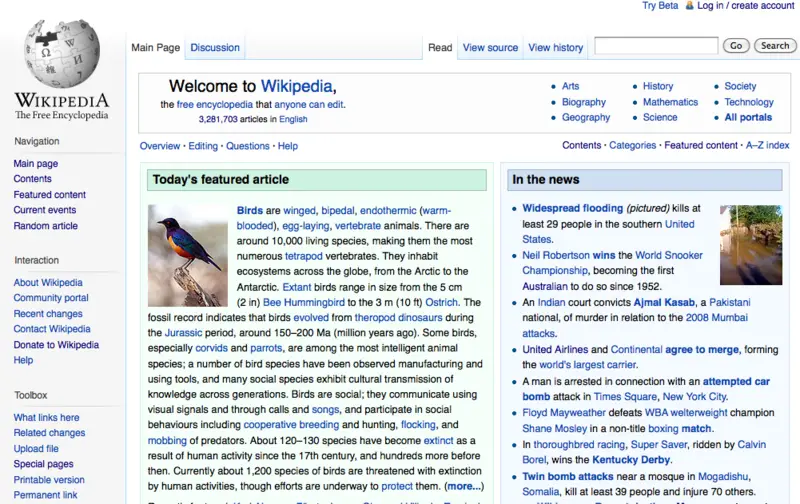 For a huge website with contents and edited by millions of people, it will definitely take a long time before a site overhaul is implemented. Such was the case for Wikipedia which just rolled out its new design and interface for its website – wikipedia.org. In fact, it took Wikipedia more than a year to redesign its site after a year of usability testing and consultation with everyday Wikipedia users. It was certainly a long and hard work, but if there's one consolation that the folks at Wikipedia should have, it's the fact that they've done a great job!
So, have you checked out Wikipedia? Did you notice the following enhancements:
Look and feel – Wikipedia now sports the "vector" theme which makes it easier to find the site's essential functionality.
Navigation – Tabs at the top of each Wikipedia page clearly identifies whether you are reading or editing a page. A collapsible navigation was included on the left sidebar that you can use to hide items that you are not using.
Editing improvements – The editing toolbar is no easier to use. Formating pages is simpler and more intuitive. In addition, a table wizard was introduced to make it easier for you to create tables as well as a new find and replace feature that simplifies page editing.
Link wizard: An easy-to-use tool allows you to add links to other pages on Wikipedia, or to pages on external sites.
Search improvements – Improved search suggestions that easily gets you to the page you are looking for.
Pediapress book creator: – Use the Book Creator from selected Wikipedia articles. This will be saved as a PDF so that you can read it anytime, anywhere.
Updated Puzzle globe and wordmark – The Wikipedia globe and wordmark have been enhanced and improved.
There you go. What can you say about the new interface of Wikipedia. Will you using the site more now?