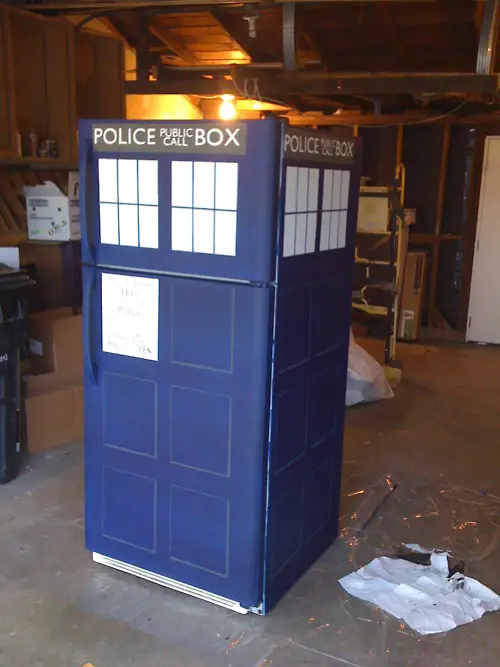 I have been a bad Dr. Who fan; a "fan" who is so behind episodes she only remembers the scary angels anymore. You know what I am talking about, right? While I haven't been watching Dr. Who for a while now, I am pretty sure I'll pick it up again some time in the near future. Especially after this recent discovery.
This guy (or gal, maybe) is living proof that the Doctor's reach goes beyond time and space and, well, television. Indeed, he has modded his own fridge – you know, that usually white box that makes ice and keeps food and other things cool? – to look like the ever familiar blue police box we all lovingly call the TARDIS. Meet the TARDIS fridge.
The finished product is shown above complete with the sign. And if you think that this is just another of those TARDIS lookalike thingamajigs, think again. It is a real working fridge!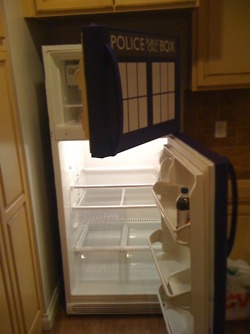 Now it may not be that much bigger on the inside than how it looks from the outside, but it definitely is NOT a police public call box you are looking at. And I am pretty sure that if you are an organized person, you will be able to cram more than a dozen eggs, salami, fish, beef, pork, chicken, yoghurt, veggies, and all your other favorite food items in there. Oh wait, did I just forget beer?
See more photos of the TARDIS fridge over at Time-Machine? Yeah! Maybe you'll even get inspiration and create your own TARDIS version. Come to think of it, if you were given the chance, what thing would you mod to look like the TARDIS?