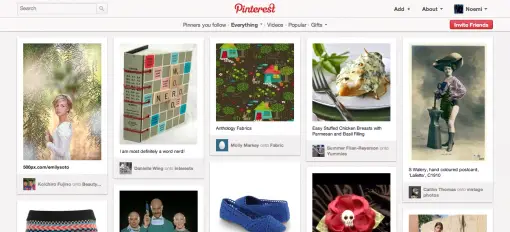 By now, you probably have seen Pinterest one time too many to ignore it. This relatively new web site is making waves, and huge waves they are! I wouldn't be surprised if you already have an account and are using it on a regular basis.
I started using Pinterest personally some time last year when a friend mentioned it to me, but I have not been that active. As I have said before, I can barely keep up with all my social networking accounts! With all the attention that Pinterest is receiving, though, one simply cannot set it aside.
In fact, Pete Cashmore of Mashable has hailed it as the hottest web site of the Year of the Dragon. His article, which was published by CNN details why he thinks that way. Here are some of the most salient points as to why Pinterest is the hottest web site of this year.
From September 2011 to December 2011, the number of unique visitors grew 400%!
Early this month, stats show that Pinterest drives more traffic to third-party web sites as compared to Google+, LinkedIn, and YouTube – all combined. That is not a small thing!
Pinterest appeals to a broader audience, without setting up "barriers" as to what to share and comment on.
Pinterest is very easy to use, and pinning an image takes a very short time (and little effort).
One word: visual. A lot of people are more into visual elements than text. And when it comes to visuals, Pinterest certainly takes the cake.
Read the entire article
here
.
So are you on Pinterest yet? How is your experience so far? Do you agree with the article that Pinterest in this year's hottest web site?