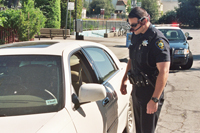 Some of you may be too young to be amazed at RoboCop, but those of my generation will feel a slight thrill of excitement every time RoboCop is mentioned. And if you are totally clueless as to who/what RoboCop is, check it on IMDB. It's a sci-fi movie which was released in 1987, with the main character being a policeman who gets killed. After his death, he gets the full sci-fi treatment and returns as a cyborg.
What we just might see in the future is not a murdered policeman turned cyborg, though, but technology that will enable people working in the law enforcement and security sector to have capabilities similar to what RoboCop had. The technology is basically augmented reality software and is being developed by Appear and Ryerson University's Flybits. Appear is a mobile application platform provider in Sweden and Flybits is an R&D group based in Canada.
The augmented reality software can be used in tandem with Motorola's Golden-i bluetooth headset. Users can operate this device without the need to use their hands, and on top of having a headset, it also has a virtual reality screen which is placed in front of one of the user's eyes.
It does sound like the stuff that science fiction is made of, but the groups involved have already come up with some proof that their concept can be turned into reality. Their target, obviously, is the law enforcement sector, wherein officers can take advantage of the technology to perform their duties better. I do not think, though, that we will be seeing police officers clad in full body bulletproof outer gear and having superhuman strength any time soon.
Seriously, if this augmented reality software works perfectly with Motorola's device, people in the law enforcement field can not only have better views, but they can take full advantage of other technology such as the access to information about their surroundings in real time.