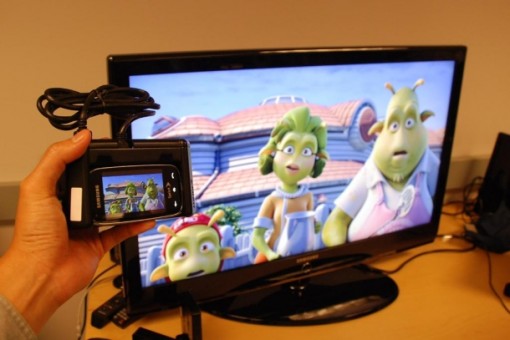 When was the last time that you actually went to the movie theater to watch a film on the big screen?  I know a LOT of people (that includes me) who would rather watch movies at home.  For varying reasons, this option appeals to some, and quite understandably.  Movie theaters charge an arm and a leg these days, and going out to battle the traffic and the crowds is something that is totally depressing.  More so, with technological developments, watching a movie at home can actually rival the movie house experience.
With the pending release of Amimon's WHDI dongle, I will not be surprised if the number of people opting to stay home to watch movies skyrocket.  The WHDI stick that is supposed to be released in 2011 (hopefully) is being touted as THE gadget that will revolutionize how we watch movies at home.  The basic idea is that you plug the dongle into any compatible device, and it will transmit your videos wirelessly to your kick-butt flat screen TV.
The device has an HDMI male port – so playback devices such as a camera, phone, or computer with an HDMI port will work – as well as a USB cable (for power).  So you plug this into your gadget that contains the video/movie you want to watch.  At the other end of the system, you need your high-def TV (duh) which should have a receiver.  The result?  Wireless video streaming with minimal lag.
Systems like this one are already in existence – why is there much excitement over the release of WHDI?
Less than 1 ms of latency
Ability to tolerate obstacles
Ability to transmit 1080p/60-Hz video data
Can't wait till 2011 now, can you?
Photo credit: Dong Ngo/CNET