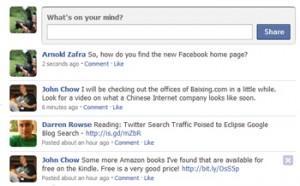 By now, you have probably read that Facebook is gradually rolling out its new home page. If you haven't check out,  the different features of the new home page are here, and here. While I may have discussed the different features of the new home page in those articles, I would like to focus more on the news feed feature in this post.
Like I said, the new Facebook News Feed feature which sits on the middle column of the new Facebook home page is now more like Twitter. If you have the new home page already activated on your Facebook account, you'd notice that this News Feeds contains stream of content coming from your friends, and other connections including updates from fan pages and groups which you've subscribed to before.
The News Feeds updates in real-time and lets you add comments and participate in conversation with the people who created the contents. Of course, if you're a Twitter user, you'd know that this is similar to your Twitter public timeline.
What's nice about this News Feed is the fact that you can filter the contents that you want displayed on your home page. These filters are listed on the left side of your Facebook home page. It lets you filter contents to photos, links, video, and more. You can also immediately hide/unhide updates from your specific Facebook friends. This is particularly useful if you have a Facebook friend who is fond of updating his/her status every single second. Don't get me wrong if you're in my Facebook contact and you do this, but sometimes it gets annoying to read those non-sense updates, especially if they become too often. 
Like I said in my two other posts, I really like this new Facebook home page. It would be interesting to find out if Twitter users would use the Facebook News Feed as an alternative to their Twittering habits. 
Would this affect Twitter's popularity and usage? Feel free to tell us what you think by leaving a comment below.
Originally posted on March 12, 2009 @ 6:59 am