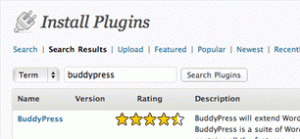 BuddyPress, a social networking add-on that previously worked only with WordPress MU installation is now available for all WordPress installs.  I'm really excited about this development as I've always wanted to try out BuddyPress for a long time now.
With BuddyPress 1.2 on your standard WordPress install, you can now start letting your blog readers create extended profiles, display activity streams, discussion forums, private messaging and groups within individual posts on your blogs.  What's good about BuddyPress 1.2 is the fact that you can turn off some of its features which you don't like to have.
Integrating WordPress on your current blog installs is easily done as well. It only takes three steps which you can follow here. After installing, you  may need to tweak it a bit to work well with your blog's overall theme.
In addition to the features we mentioned BuddyPress also now includes permalinks for each action in the activity streams. Likewise, users will now be able to "favorite" activity items as well as send @replies to other users. Truly, a powerful social networking feature.
For requirements, you need to have at least WordPress 2.9.1 or better yet upgrade your install to 2.9.2 if you haven't done so yet.
Originally posted on February 17, 2010 @ 12:44 pm