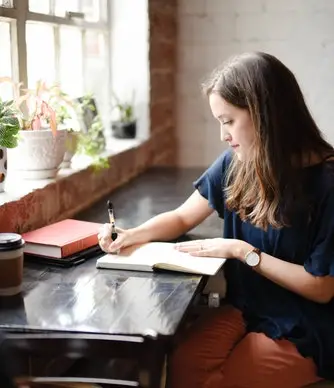 Choosing a career which suits your interests and personality type is important. When you take on a career which doesn't match who you are you'll eventually start to dread going to work every day.
Creative people especially are known for becoming bored easily if they aren't challenged and in an environment which encourages them to create. If you are someone who considers themselves to be creative and isn't sure which career might be the best for you, here are some of the best choices.
Makeup Artist
A career as a makeup artist is a great choice for someone who loves to paint and draw original designs. A makeup artist is someone who much like an artist paints on a canvas and uses paints. The difference is their canvas is a human face and they paint using makeup materials. You can do everything from natural looking makeup to full face theatrical makeup. It all depends on your skill set.
A makeup artist doesn't require much training and in often cases people can teach themselves. This can be an especially appealing aspect for those people who don't foresee themselves in school for long.
Writer
Pursuing a career as a writer may be a great option for you if you enjoy self-expression through words. Writing can be a great outlet for someone who has a way with language and enjoys working alone.
A career as a writer can be extremely versatile as there are many industries which you could work in. You could be a fiction writer, write screenplays, blog, or even write for the news. Depending on the type of writing you enjoy, you can determine which industry would be best suited for your style.
Entertainer
People who love to express themselves in front of a crowd make great entertainers. If you aren't shy and feel comfortable in the spotlight then you may just be the perfect person for the job. In addition to it being a very exciting and fun career, it has the potential to make a lot of money.
Some Hollywood stars make hundreds of millions a year doing what they love. Not to mention they often get to branch out into other careers in the entertainment industry as well such as producing or directing.
Fashion Designer
Designing clothing is something which is full of creative opportunity. From drawing out the sketch to the final creation of the garments. It's your job to keep an eye on trends and find creative and original ways to interpret them.
Some of the best designers are introverts by nature but extremely creative. Making clothing design a great career choice for them since so much of their process is spent alone in the workroom coming up with concepts.