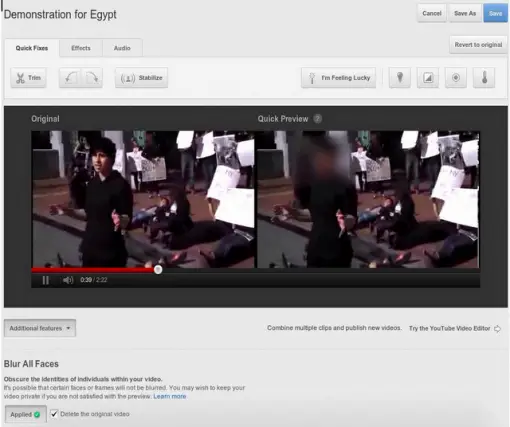 Privacy
is one of the most pressing issues in today's insanely public world. With Facebook, Twitter, YouTube, and all sorts of other platforms where anyone can share anything, it is rather understandable that some people go to great lengths to protect their privacy.
Then there's citizen journalism. So many things can be said about this trend, both good and bad, but one thing is for sure: there is a place for privacy in this area as well.
That is the reason YouTube has released a new face blurring tool: to help people deal better with privacy. Now if you're trying to use YouTube to get your 15 minutes of fame, move on and forget this post.
The YouTube face blurring tool has been created with the full range of users in mind. For example, if you have footage of a protest, and you want people's faces to be unrecognizable, the YouTube face blurring tool gives you the option to obscure those faces.
I haven't had the chance to use the YouTube face blurring tool (simple because I do not upload videos to YouTube), but based on the announcement in the YouTube blog, using the tool is simple. With one click, you can blur all faces in the video.
YouTube does have a disclaimer, which is understandably. After all, facial recognition technology is not perfect, and it will happen that some faces may end up not being blurred out in a video. Unfortunately, there may be no solution to this for now, so YouTube's recommendation is to keep your video private if this is a pressing concern.
Either that or just don't upload to YouTube at all.
Via YouTube Blog