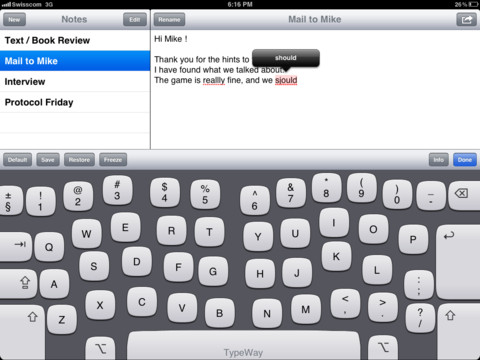 What do you use your
iPad
for the most? If you are like me, playing casual games is probably the main use for the iPad. Of course, there is the occasional sending of emails and browsing the Internet when I'm out and don't feel like taking the laptop with me. Then again, the
iPhone
can do the same things, so the iPad is rather redundant for me at the moment.
For those of you who are heavy iPad users, however, you probably use the on screen keyboard regularly. I don't know about you, but I don't have many issues with that keyboard. If you do, then you might be interested in this iPad app called TypeWay.
The concept is pretty cool in that it supports 10-finger typing. This is perfect if you type a lot on the iPad, and you actually use more than two fingers to do so! You can also configure the keyboard to suit your preferences and habits, which is a must in my book. And as one expects, the basic iOS5 functions are still recognized by TypeWay.
That being said, I am not too convinced by the app. For one, it costs $5.99 in the App Store. While that may not be such a huge amount, I think that I will survive on the the default iPad keyboard. Those dollars can be spent on other games, you know! Still, if you are hellbent on trying out a different keyboard that might just make your workflow more efficient, TypeWay is something that you can consider.