Darius Monsef posted a fascinating article over at YoungGoGetter this weekend that points to some of the current major weaknesses in blogging.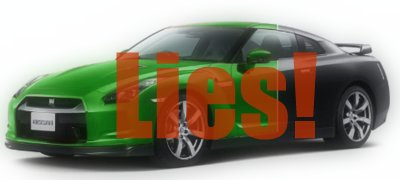 He writes about contacting Nissan to confirm a story regarding their new color changing paint technology, a story that he picked up on several blogs last week, only to find out that Nissan had no idea what he was talking about. In his search to uncover where exactly this bad information came from, he traced a history of posts that embellished the original story with minor lies, and yet others that referenced the information in those posts as fact. When all was said and done, he revealed what must be an embarrassing incident for some top-name blogs like Engadget, Gizmodo, and Wired.
He boils it down like this:
So in only 3 days, the details of the story went from:

'color changing paint technology is being viewed by Nissan and other auto companies'
to…
'Nissan talking up their bogus but juicy claim to have developed a self-healing paint system that can actually change color based on your mood, will be on production vehicles by 2010.'
It's incidents like this that give blogging a bad name. Sure, not all bloggers have had formal journalism training (I certainly haven't), but it shouldn't require a journalism degree to realize that you should always check your sources and never embellish a story with misinformation.
So how did this happen? It appears as if some of the defining characteristics of blogging ended up failing us: For one thing, the blogosphere is basically a giant echo chamber. Many blogs tend to cover the same stories, and subsequently, they often source each other. While this leads to a fascinating level of conversation unheard of in traditional print media, it also leads to the spread of misinformation if a story is poisoned along the way. Darius likens what occurred in this instance to a childhood game of telephone, and I find that to be a fitting description.
In addition, bloggers don't have the same restrictions with editorial oversight as a traditional media outlet. There isn't much in the way of fact checkers and editors making sure your entire story is kosher. While this allows bloggers to respond to news in a more immediate and unfiltered fashion, it also means that there is very little in the way to stop bloggers from writing inaccurate stories, either on purpose or accidentally. In truth, it's tough to be one's own editor, which is why I recommend finding a blogging buddy if you need a fresh pair of eyes on a story.
Of course, traditional media outlets aren't without similar gaffs, but that still doesn't excuse this fiasco. Blogging is still a very young form of journalism, and bloggers have to realize that everything they do, from catching great stories, to embarrassments such as this, are all viewed more critically than most other forms of journalism. This is even more true for professional bloggers, like the folks working for Engadget and Gizmodo, because they are viewed as the most "legitimate" sorts of blogs. Hopefully this incident will serve as a cautionary tale for budding bloggers, as well as a reminder to those involved about journalistic integrity.