As I have been dealing with Internet security issues for the last two or three months, I decided to look for and write about possible security issues for this year. So to kick this three-part series off, let's start with some good news.
We will be missing the three most evident malicious programs this 2008, namely viruses, Trojan horses, and worms. Why? Because programmers of such have taken another virtual road: proliferation of refined and highly developed Internet threats.
For the past three years, malicious e-mail-attached programs received a bunch of refinements and development, allowing them to evolve to trickier forms that "escaped" the bounds of e-mail and spread through other outlets. Seemingly though, even if the three malicious programs were very prevalent last year, their programmers have outgrown the usual, email-born programs and shifted to a higher gear.
Feebs, The Self-Breeding Worm
Feebs, for example, is a self-reproducing worm that connects infected computers to the propagator's computer, allowing remote access and acquisition of the victim's private information. Its spreading process is amazing for it can observe your system's connections and, while in the background of your system, inject an infected .zip file to one of your system's outgoing message. This manages to abuse the trust a person has towards another, since the source of the message is a trusted source and, at the same time, an innocent suspect.
Once opened, the Feebs worm will then watch incoming connections, detect stimulus to retrieve files from the local hard disk, catch personal information from them, upload its copies for infection, then look for an executable file to attach itself to in order to run itself again. Everything happens so quietly that nobody notices its growth until it infected
In one distinct event, IronPort Threat Operations Center detected six outbreaks of the various Feebs version in one week of 2007, each of the worm variant spreading wildly before a complete report against the virus. Also, two strains of Feebs were released at the same time in a single day, furthering the threat to web users.
The Evolution
2007 actually suffered from a huge number of URL-based virus outbreaks as compared to 2006. Such change of viewpoint, according to IronPort's "2008 Security Trends," constituted a whopping 253 per cent increase from the outbreaks of 2006 to that of 2007. Not surprisingly, viruses taking the form of attachments have somewhat taught malicious programmer to look for a different way to spread viruses. And just by that, the attackers have evolved from singling-out-and attack types to multi-level ones, like delivering a link that can point to a malware-infested server that can further bind computers connected within its network and infect them.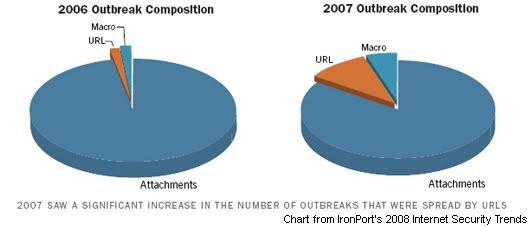 E-mails are no longer the dominating source of viruses today. Unfortunately, in the conquest for spreading evil in the virtual world, malicious programmers learned to think out of the e-mail box and found other means of spreading infection. But this doesn't mean that we should lower our e-mail guards because self-propagating viruses are still out there. What I'm trying to say is that there is a new form of Internet security threat that, although branching out from the fast-paced development of viruses, will seemingly outshine its ancestor. Watch out for it and other reports in the next three parts of this series!