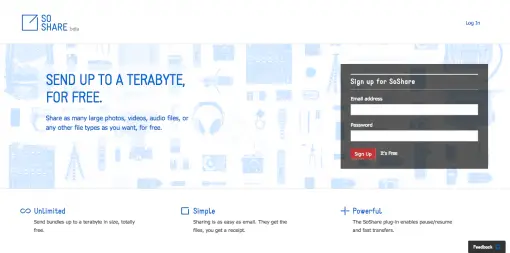 Sharing files remotely is something many people take for granted these days. With the use of the cloud being more prevalent, and with services being made available for free, average users have easily incorporated the technology into their daily lives. There is, of course, the issue of file size limitations, especially for those who use the free packages and don't upgrade to premium models.
Once again, BitTorrent comes to the forefront of the file sharing arena by launching a new service called SoShare. This new tool poses a threat to other players in the game such as YouSendIt simply because of the sheer size of the file bundles users are allowed to share in one go. How does 1TB of data sound?
Being backed by BitTorrent also means some technological advantages for SoShare. The setup is such that the tool makes use of the file transfer technology BitTorrent also uses, plus cloud caching. If you share a file (or a bundle of files) via SoShare, the people you choose to share them with can gain access even if you're offline. They will also have 30 days to download the file/s, unless you opt to remove what you've uploaded before then.
GigaOm reports that the guys at BitTorrent are targeting creatives with this tool.
No one is designing media delivery for the media industry. We saw an opportunity to build a reliable solution for this user group. There are 3.34 million Americans employed in creative industries. They work in large file formats – photo, audio, film. And their work is dependent on being able to send and deliver these large file formats to collaborators and clients. Right now, doing so is costly and difficult. ~ Catherine Meek, Director of Product Management
That does not mean that SoShare is strictly limited to creative professionals, though. After all, in this day and age, everyone always has at least a gazillion bytes of photos and videos to share with friends and family.
The service is currently in Beta, and signing up is absolutely free. It's fast, too! You do need to download and install the plug-in to send and receive files, but you only need to do it once. If I were you, I'd take a look-see and use the service while it's free. I am sure they will go down the monetization road.