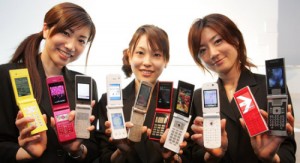 We all have our little quirks, and if yours is to try to mimic how other people speak, here's something that will tickle your fancy. Some time last month, NTT Communications announced a pretty cool mobile phone service. Dubbed Mane-1GP (available in Japan only), the service works this way:
Mobile phone subscribers call a number.
They have the following choices:

Popular comedians
Lines from movies
Animal sounds
Various dialect accents
Other sounds

They can listen to the particular sound/line they want to mimic, and they can record their own rendition.
The users' recordings are compared to the original sound bytes, and a score is given.
How does the system analyze the recordings?  The concept is simple: an algorithm was developed specifically for the analysis of recordings, to compare the original and the user-inputted recording.  The analysis is based on the following factors:
Speed
Intonation
Sound pressure
Voiceprint
Voice quality
Knowing just how good the Japanese are with technology, you can bet that these analyses are technologically sound!  The service is compatible with most mobile phones available in Japan via the major phone companies: NTT DOCOMO, au, and SoftBank Mobile; and each call will cost a person about 10 to 20 yen.  Oh, and to make things more interesting, users can invite friends to join a "competition" wherein the person who gets the highest score wins!
NTT Communications is also known for its other services such as international data service centers, but this piece of news just goes to show that the telecommunications giant is not averse to offering fun and quirky services to their clients!
It may not be for everyone, but hey, each to his own, right?