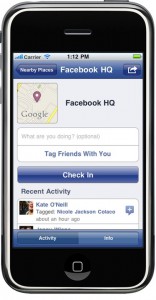 Why would you want that? Well, I am sure that it can come in handy sometimes, but whatever I think about the idea, the fact is that Facebook has just launched a new feature for US users: Facebook Places. The application is available on the iPhone and allows Facebook users to share their locations. If you are thinking of Foursquare, you're right on.
In the Facebook Blog, you can read the official announcement for Facebook Places:
Ever gone to a show, only to find out afterward that your friends were there too? With Places, you can discover moments when you and your friends are at the same place at the same time.

You have the option to share your location by "checking in" to that place and letting friends know where you are. You can easily see if any of your friends have also chosen to check in nearby.
I don't know about you but that second paragraph just doesn't cut it for me. Anyhow, with the app, you can choose your settings so that your location will be published. You can also tag your friends who are in the same location as you are. More so, you can see other friends who might have "checked in" in the same area.
This brings to mind what happened to Adam Savage and his geolocation boo-boo. With Facebook's privacy issues, do we really want to use Facebook Places? You tell me!
Photo credit: Facebook Blog