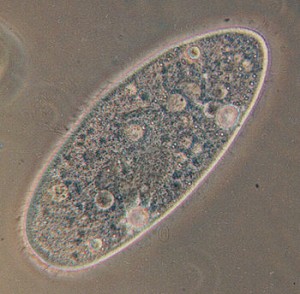 Just the other day, I had the chance to play World of Goo for the first time. Yes, I know that's a really old game, but some of us have to work. 😉
Anyhow, the experience was a strange one as I didn't immediately get the concept. Little blobs of black goo (sometimes white) bouncing around just didn't tickle my fancy, so I didn't really end up playing it for long. For those of you who are interested in this kind of gameplay – the weirder the better – then you will like these new "biotic" games.
A team in Stanford University led by Ingmar Riedel-Kruse have come up with a bunch of biotic games based on – surprise – biological processes. The main player is paramecia. Quick bio review: paramecium is a kind of unicellular ciliate protozoa. It moves – just like a caterpillar – because of the cilia covering it all over. Now do you see where this can go?
So the scientists had a lot of free time in their hands and decided to have some fun. The games they created are:
'Enlightenment', 'Ciliaball', 'PAC-mecium', 'Microbash', 'Biotic Pinball', 'POND PONG', 'PolymerRace', and 'The Prisoner's Smellemma'. I cannot even begin to imagine how these games will work, but here is a video that will aid your imagination in case you are in the same boat as I am.
Fancy a biotic game of Pac-Man or soccer? Maybe Ingmar and his team will play nice and let you have a go at their games. I think I will stick to my "traditional" games.