The iPhone is a brilliant device. There will, of course, be those who will have tons of counter arguments to that statement, but let's not deny how much this phone has impacted our lives. Even the haters who make fun of the gadget come up with the
craziest
most creative things one can do with/on the iPhone.
Now, they can add another impressive function: a self-defense device, thanks to the Yellow Jacket, the world's first iPhone 4 stun gun case.

iPhone cases are to be found everywhere, but have you ever seen one that can function as a stun gun? Thought not.
Anyone can boast of pink bunny ears iPhone cases – though I honestly wouldn't be caught dead using one of them, not in any color! I love my Ferrari iPhone cases. (Yes that's plural.)
But this Yellow Jacket stun gun case is something else.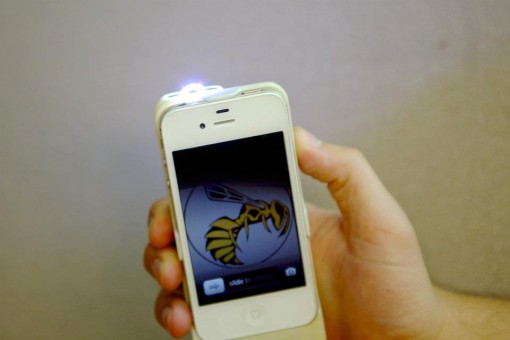 One of the çreators of Yellow Jacket is Seth Froom, who had a personal encounter with the bad elements of his neighborhood when he was robbed at gunpoint. At home. There aren't too many things more traumatic than that, are there?
Froom says that that experience inspired him to come up with something that can help him defend himself, something that is always on hand. (For the record, Seth has guns in house, but they were not within reach at that time.)
If you think about it, what is the one thing that many people always have with them? I am sure majority of people you ask will say "my phone". And that is exactly what Seth had in mind.
Thus the Yellow Jacket iPhone case was conceptualized. Not only does it protect the phone itself – a device worth protecting, as we all know – but it also doubles as a stun gun, which may spell the difference between life and death in some cases.
Additionally, the Yellow Jacket also functions as a battery extender. It adds 20 hours of battery life to your iPhone. I am so sold!
Set iPhone to stun!
Support Yellow Jacket on Indiegogo!