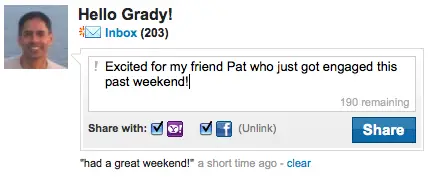 Yahoo continues its drive towards becoming more social with another integration feature in cooperation with Facebook.  To be rolled out gradually to users, Yahoo is now allowing you to update your Facebook status while you are reading your Yahoo mail. You can also see your friends' Facebook profile photos when they send you an email.
This is a follow-up to the previously rolled feature which allows Yahoo users to import their Facebook friends' email addresses to Yahoo! Contacts. The new feature also solidifies some more Yahoo and Facebook's underlying partnership. Of course,  Gmail also somehow has this feature wherein you can respond to updates via email, but this feature is not as fluid as the Yahoo Mail-Facebook integration.
The new feature is to be rolled out to select users initially. If you're one of them, you'd find the activation link if you see the "Add to Facebook" option in the status section on the What's New page in your Yahoo Mail account.
Once you've logged on with your Facebook credentials and successfully connected to Yahoo Mail, you can start using the following features:
Update your Facebook Status: Simply start typing what's on your mind in the status box, and then choose where you want to share it – Yahoo!, Facebook or both.

See Facebook profile photos when people email you: With this feature, you will see people's Facebook profile photos – if available – anytime someone emails you.  In addition, by clicking on the profile image, you will go right to that person's Facebook page.