Before I shifted to Mac from PC, I was testing Yahoo Messenger 10 beta on my Desktop PC. Back then I was already impressed by the many features that Yahoo's IM and chat client has to offer and wondered how far it has gone to.  YM was the first chat and IM client I used (yup I never tried IRC).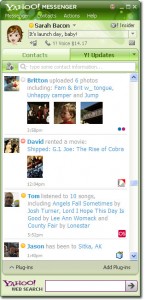 Too bad Yahoo Messenger does not support Mac OS X as a stand-alone application. You can only run it through a Mac supported IM client such as Adium. I will surely miss using Yahoo Messenger, most especially now that its version 10 is finally a full version.
If you're still on PC and using Yahoo Messenger here are the key features that you should look out for in Yahoo Messenger 10:
high-quality video calls with synced audio
real-time streaming of your contacts' updates via " Y! Updates"
hover menu for quickly sending IM to friends
updates are displayed inline in the conversation window for easier threading
new language menu for shifting from one language to another
Ready to download Yahoo Messenger 10? The link is right here.