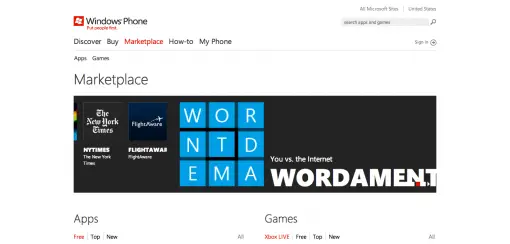 Just in case there are some of you who have a Windows Phone…I think I am not wrong in assuming that. The
Windows Phone Marketplace
is what the
Android
Market is to Android phones and the iTunes App Store is to iOS devices. So the news is that the Windows Phone Marketplace has now reached a milestone, that of 50,000 apps.
If you do not think about any other platform, 50,000 is not a small number. Then again, with the explosion of mobile devices these days, this figure may be a milestone for the Windows Phone Marketplace but it is still lagging behind the two other major platforms.
On the other hand, the Windows Phone Marketplace does not seem to be performing too badly if the period is considered. How does reaching this milestone compare?
According to PCWorld ((PCWorld)), it took the Android Market 19 months to reach the same milestone. As for the App Store, it took a mere 12 months. Windows settles comfortably somewhere in between with 14 months. Of course, we cannot discount the fact that the Android Market and App Store contain so many more apps that Windows has a lot of catching up to do.
This piece of news may not be worth your while if you are no Windows Phone user, but for those who are, the milestone being reached is a positive sign for the incoming year. With several hundred apps being added to the Marketplace on a daily basis, it shouldn't be too long till you have "more than enough" choices to download.
Are you planning on getting a new phone next year? Are you considering a Windows Phone? Will this development influence your choice in any way?