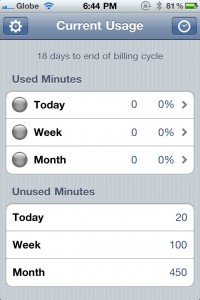 So how are you doing with your
iPhone
? It may not be the most used phone in the entire world, but it is arguably the most desired phone, thanks to the magic that Steve Jobs has wrought. And speaking of Steve Jobs, did you remember
Dress Up Like Steve Jobs Day
on Friday? While a long-sleeve black turtleneck seems appropriate for the weather today (at least in my neck of the woods), I didn't have time to go out and get one, so I had to be satisfied playing with my iPhone and downloading an app that might just make us some savings.
The app is called VoiceMan, and it seems to me that it has a lot of potential to help you monitor just how much your voice calls cost you. With the iPhone, you can do practically everything and more often than not, it is the data usage that gets people in trouble. At least that's the prevailing idea. Hence, people do pay a lot of attention to their data usage, sometimes at the cost of forgetting about the voice calls. (Of course, if you have unlimited plans, this is not a problem. But how many people actually do have unlimited minutes?)
With VoiceMan, you can easily monitor your voice minutes without having to check with your provider all the time. The app allows you to set your daily, weekly, and monthly usage limits. You can also specify the bill date.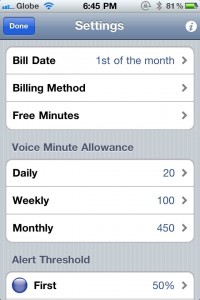 That's the default settings, so I had to change things to match my bill date and minutes.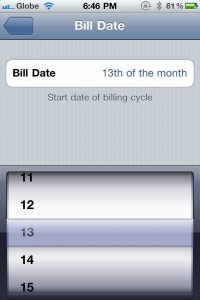 Here, you can see that I have set the limits to low figures, especially for the daily one. I did this on purpose to see what would happen if I exceeded the limit.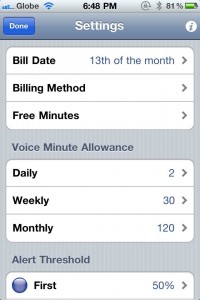 Sure enough, after I had a 5-minute conversation with my sister, I got a notification immediately after hanging up.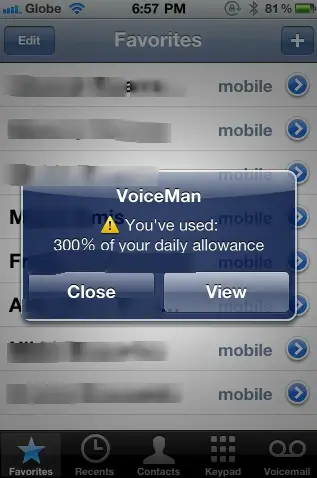 Over time, you can also monitor just how much you have exceed (or not) your limits.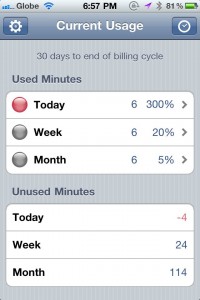 For only $3.99, I think that
VoiceMan
is worth purchasing and using, especially if you tend to get carried away talking on the phone.
Now here's the fun part. I have a promo code to give away so that you can download VoiceMan for free! All that you need to do is follow the steps below.
Step 1: Copy & paste the following, and tweet it:
I just entered to win a promo code for the iPhone app VoiceMan from @dailybit! Enter here: http://spm.me/6ya #contests #voiceman #winvoiceman
Step 2: Leave us a comment on this page (below) to let us know you tweeted, and paste the link to your tweet in your comment. (Note that our comments are moderated, so your comment may not show up immediately after you click the "Post Comment" button.)
One winner will be selected at random from the commenters at or around 8:pm EST on Monday, September 19th. Winners will be notified via Twitter, and we will send you the promo code, which you can redeem via the App Store.
Important: You can only tweet about the contest ONCE per day till the deadline. If you tweet more than once a day, all your entries will be disqualified.
Good luck!