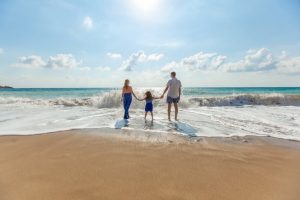 When summer rolls around each year it can be easy to spend a bunch of money. Between gas for road trips and trips to the beach and money spent on summer wardrobe items, your spending can add up quickly. The key is to make a smart plan for your summer spending and still be able to have fun and enjoy the sun.
Plan Vacations Wisely
Vacations are probably one of the most expensive things about summer. Make sure you plan ahead for yours so you don't go broke. If you use a loan to take a trip, make sure it's something you can pay back in a timely manner.
Planning starts with how you'll travel for vacation, followed by determining where you want to go. Do some research and find out what the cheapest travel type is to get where you want to go. Also, find out if your vacation destination has any discount packages available that could help you with the cost of your hotel room and more.
Make sure you don't waste too much money on souvenirs. Set a spending limit for each family member and for each place you stop and be strict about it.
Find Free Things To Do
There are plenty of free things to do in the summer. If you have a local beach you can go hiking in the sand, go swimming, or play on the swings and other park items (they're not just for kids).
If you have a local park you can find even more to do there. If you have a basketball or a partner and the items to play tennis with, take that stuff to the park with you and get in a fun workout. You can even find things to do that may cost a small fee, like golfing or joining an outdoor yoga class.
Shop Smart For Gear And Clothing
Summer means shopping, for clothing and more. That doesn't mean you need to go broke, though. Get smart about shopping by researching the best prices on the items you need. You might even find the best deals online, but you won't know if you don't look.
Sometimes the big box store, like Walmart, and the discount stores, like Big Lots, will be your best bet. However, you can find deals anywhere if you look online. You might even find what you're looking for in a local resale shop (someone's junk is always someone else's treasure).
Eat Healthier
It can be tempting to hit up the local ice cream shops now that they are opening, but you're going to need to do a lot more walking and swimming to burn those extra calories. Pass on the junk food and find healthier ways to enjoy summer foods.
One of those healthy ways is to hit up your local farmer's market. Some fresh, in-season fruit is far healthier than sugar-filled ice cream. Plus, you can get produce for far cheaper at the farmer's market than you can at the grocery store, and it's a lot fresher too.