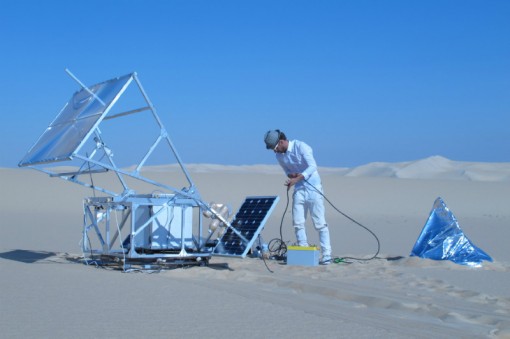 3D printing is just getting started, and it looks like we're going to see more and more amazing applications, thanks to the brilliant minds who have become fascinated with the technology. From chocolate 3D printing to printing out meat – the possibilities really are endless!
And then there is the Solar Sinter Project, which harnesses the power of the sun AND sand to 3D print objects. How cool – or hot – is that?

You and I may not be rocket scientists, but the concept is pretty easy to understand. The sand serves as raw material. The sun powers the machine and melts the sand. Now don't ask me about the exact science underlying the process.
Markus Kayser, a German product designer, might be able to help you with that, though. He is the guy behind the Solar Sinter Project, and he says that his endeavor "is really about how to use natural energy, in this case sunlight, and natural materials, in this case sand, to produce objects."
His explanation of the process seems simple as well.
"Sand melts and solidifies as glass and the sand sits in a box which moves around in the x,y and z axis – that is the 3D printing part which then controls the shape of the object."
If you're familiar with CAD, then you might have a clearer idea of how the whole thing works. For a more visual and auditory experience, here is a short video of the Solar Sinter Project.

It doesn't look as easy as it sounds after all, but I still want one of those things!
Via Humans Invent