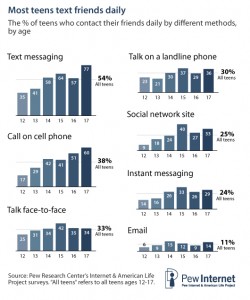 Following our recent coverage of  how young online people value their privacy, here comes another report centering on the same demographics this time looking into the exploding text messaging habit of U.S. teens. The study, conducted by Pew Internet shows how teen-agers have embraced text messaging and made it as their main communication medium among circle of friends.
According to the study, some 75% of 12-17 year-olds now own cell phones.  And those phones have become indispensable among teens when communicating with their friends. Around 72%  of American teens engaged in text messaging. Even more interesting is the fact that more than half or 54% to be exact of American teens are daily texters. In fact, texting has overtaken other forms of interaction and communication among American teens today.
Other key findings of the Pew Internet study include:
One in three teens sends more than 100 text messages a day, or 3000 texts a month.
Calling is still a central function of the cell phone for teens and for many teens, voice is the primary mode of conversing with parents.
Girls more fully embrace most aspects of cell phone-based communication.
For parents, teens' attachment to their phones is an area of conflict and regulation.
Most schools treat the phone as a disruptive force that must be managed and often excluded from the school and the classroom.
Cell phones help bridge the digital divide by providing internet access to less privileged teens. Still, for some teens, using the internet from their mobile phone is "too expensive."
Cell phones are seen as a mixed blessing. Parents and teens say phones make their lives safer and more convenient. Yet both also cite new tensions connected to cell phone use.
Cell phones are not just about calling or texting – with expanding functionality, phones have become multimedia recording devices and pocket-sized internet connected computers
4% of teens say they have sent a sexually suggestive nude or nearly nude image of themselves to someone via text message
So there. Now you know what your kids are up to in case they use their mobile phones more often than you've expected.