Ever considered a career in the IT? If you think that our job is all about installing new software or fighting malicious viruses, read on for some compelling stories. There is actually more than meets the eye.
Before we start, do you think that your PC or any other data storage device is indestructible? Well, if you do, at some point you may end up realizing that you have just lost all your data, as the device got destroyed. Even despite the recent advancements in the field of data recovery, sometimes the users get just too creative. And we mean it – although we've been working in the IT field for quite a while and saw lots of weird things, some people do not cease to amaze us. So, we decided to compile a list of the most awesome, or just awesome, cases of data loss we had to face. Although we succeeded in most of them, sometimes that was just too difficult.
Sometimes Your PC won't cooperate

Remember when your computer got lags and you were waiting forever while trying to open some important website? How about the error message popping out when you wanted to enter your company's e-mail account? Well, we can all relate to that. Most people turn the computer off and just walk away. Indeed, this is a far better decision than hitting the PC, throwing it through the window, or even kicking it. Try to imagine, what damages you might do to your computer by doing this. It doesn't take a rocket scientist to know that the data losses may be so huge that any recovery would be a tall order. Even the best and the brightest data recovery professionals might not be able to save the data lost after a hard disk got destroyed. See the picture below to get the idea of what we faced and how mission impossible it was to recover the data from the totally massacred hard drive one of our hot-headed clients brought.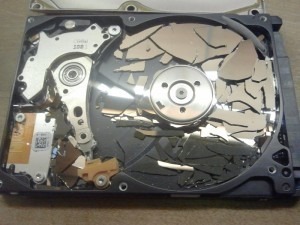 Cats' Love for Laptops Is Not Mutual
Some time ago, we had a curious case of Mrs. Smith, a devoted cat lover. Her laptop just broke down. As it turned out, the device ceased to work after some mysterious substance was poured onto it. And, guess what! It wasn't coffee or tea. Unfortunately, the beloved kitty mistook the PC for a tray. The good news is, we were able to recover the data, but the smell is still around. 😉