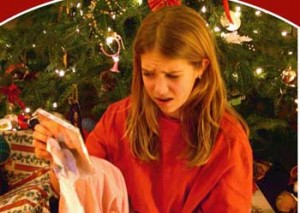 Christmas is the time to give, but some people have a knack for giving inappropriate gifts. Inappropriate may be a relative label, but we know just how many people return unwanted Christmas gifts. We also know that this period after Christmas is the busiest time of the year for retailers when it comes to returning/exchanging items that are unwanted.
Now, personally, I don't believe in returning gifts. I am a firm believer in the thought being more important than the actual gift, but apparently, not everyone thinks the same way; and due to this, shops such as Amazon have to deal with tons of requests after Christmas. In order to avoid this, the online superstore has reportedly come up with a system – patented, of course – that will avoid people having to return gifts (and Amazon having to deal with the issues).
The idea is simple: users can label people who have a knack for sending "bad" gifts. If these people send the user gifts, Amazon takes care of the "problem" even before it crops up. It does so by NOT sending the gift at all. More so, users will have options to customize the parameters as to what is a "bad" gift. For example, keywords such as "Hello Kitty" can be used – anything with this tag will not be sent to the user.
Now how do you deal with the sender who might get offended? It seems that Amazon has thought about this as well – users still know that they have "received" a gift and can thank the sender, without the latter knowing that the gift has not been delivered. (With everyone knowing about the system, though, wouldn't paranoia just make things worse?)
I say it's a nifty idea, technically, but poses a whole lot of potential complications (relationship-wise) that it simply isn't worth it. If this thing pushes through, however, the face of online shopping might just change.
Photo via wfnx