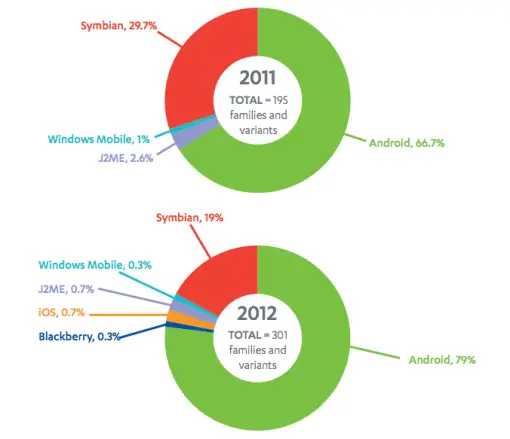 Mobile security company F-Secure has recently released a report on the status of mobile threats in 2012. The report covers a lot of ground, but the most striking result is that Android is the main platform being targeted by hackers. From the get go, the executive summary of the report picks out Android.
Android malware has been strengthening its position in the mobile threat scene. Every quarter, malware authors bring forth new threat families and variants to lure more victims and to update on the existing ones.

In the fourth quarter alone, 96 new families and variants of Android threats were discovered, which almost doubles the number recorded in the previous quarter. A large portion of this number was contributed by PremiumSMS—a family of malware that generates profit through shady SMS-sending practices—which unleashed 21 new variants. [Read more…] about Android Is King – of Malware Threats!