Adult Fans of LEGO (AFOLs) listen up! You have something new to drool over – a Sandcrawler replica made with LEGO bricks. You might be thinking, "So? So many things have been created out of LEGO!" Then again, this one is nothing to scoff about.
Made from 10,000 LEGO bricks over a span of nine months, you can just imagine the effort and creativity (not to mention the money!) that has gone into this Sandcrawler. Oh, and in case you're wondering what the heck a Sandcrawler is – yes, I totally get it that not everyone knows everything about Star Wars, however "epic" it might be – here is the official definition from Wookieepedia: ((Wookieepedia))
Sandcrawlers were large, slow, treaded vehicles, used as self propelled bases for mining squads. Most notable example of usage of these vessels, later adapted by Jawas for their mobile homes, was on Tatooine, where bulky sandcrawlers climbing the dunes were a common sight.
This overview of the LEGO Sandcrawler gives you an idea of the scope of the project. Again, 10,000 LEGO blocks!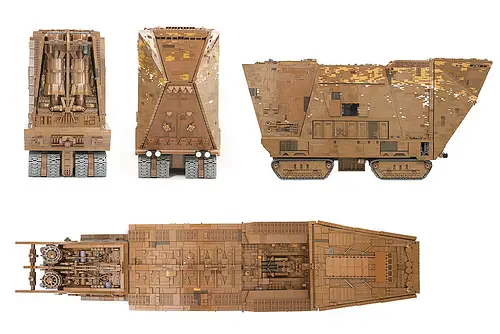 This diorama gives the Sandcrawler some context.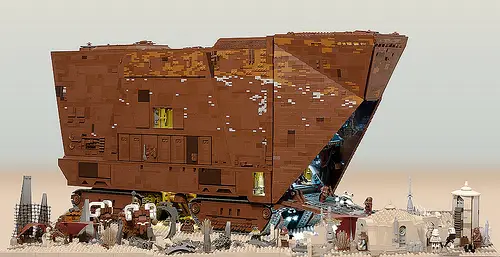 And this makes use of lighting to add some drama.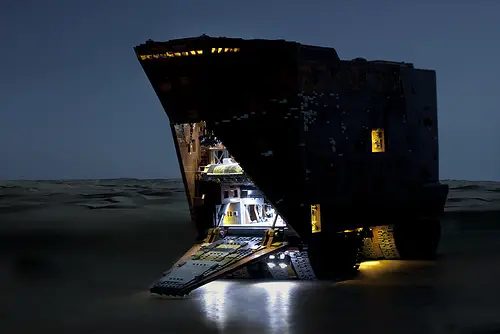 Brilliant piece of work – and I don't think anyone will contest that. In case you want more (and I am sure Star Wars fans will want more), here is a short video clip showing the Sandcrawler in action.
The brains behind this? A guy who calls himself marshal banana on Flickr. For more photos and details, head on over to Flickr and check out the photostream.