This Monday Yahoo! is officially launching its Shine website, focused on women between the ages of 25 and 54. To give you a taste of what they will be covering, here are some sample categories: fashion, beauty, health living, entertainment, love, sex, food and home.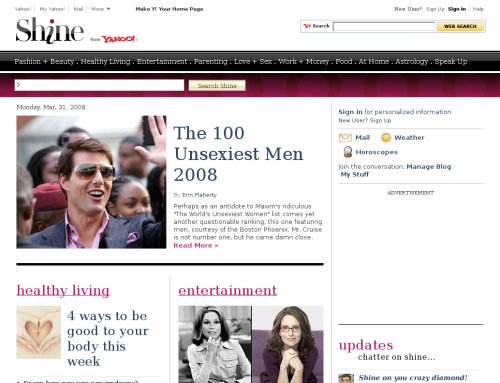 Basically they will be expanding through the whole pink universe. I think it is a solid move from Yahoo!. More and more women are getting active on the Internet everyday, and creating a portal focused on this segment could turn out to be a success. Here is a quote from News.com:
Yahoo's efforts at doing original content haven't all panned out, but this site is more of a hybrid. Articles and original blogs will come from a range of sources, including Glamour, Epicurious.com, Style.com, InStyle, Cosmopolitan, Harper's Bazaar, Women's Health, and Good Housekeeping.

Eight editors are overseeing the various sections (such as home, parenting, fashion, culture, and career) and the editor in chief is Brandon Holley, former editor in chief of Jane magazine.

Shine readers will be able to start their own blogs and that content, if deemed worthy, can end up as some of the featured content in different sections on the site.