It's not everyday that you get to hear about a robot that is all-seeing, do you? This is one of those things that we can describe as the stuff that science fiction is all about. Except that this is NOT science fiction. It is real life, and it is happening now.
Schäuble Junior is a robot that has 9 eyes. Well, he may not be a robot in the sense of being a sentient being, or even a semi-sentient being, but Schäuble Junior is nothing but impressive.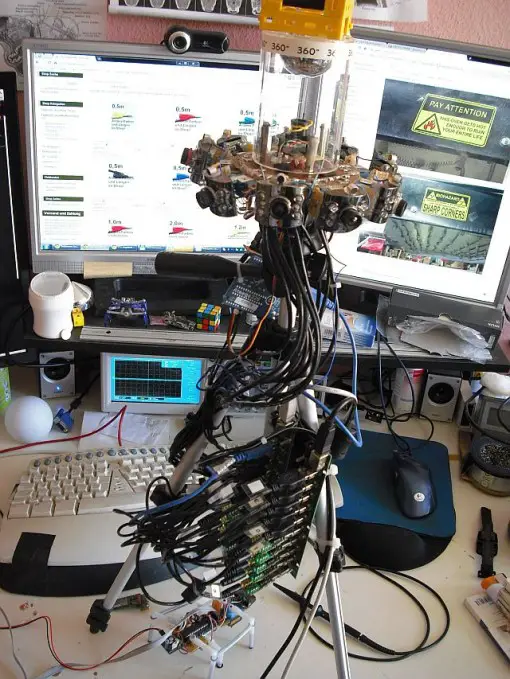 I stumbled upon this creation at Codeninja ((Codeninja's web site)), where Schäuble Junior is described as:
"multifuncional servo controlled camera array with 9 pan/tiltable cameras, one overhead 360° camera for calibration purposes, 9 microphones, 4 line lasers, pwm-controlled ir-led illumination, speaker with amplifier, arduino controlled, heavily modified 2*4+6 usb port switch"
So it looks like a bunch of cameras placed in an organized manner, but what can it do to impress? Here's a short list:
360° * 140° panoramic shot in 6 seconds (!)
360° video recording (currently 19..20 fps, working on that)
9 channel microphone array, each with it's own soundcard
piezo speaker for echolocation experiments
So yeah, this baby is not just all about seeing, but sound works as well!
Take a closer look at the cameras.

And the board, which is responsible for the cameras to keep on working at all times, making the entire set up all-seeing.
Schäuble Junior is named after a German politician who was (is?) infamous for attempting to do away with certain privacy rights. His attempt was unsuccessful, to the delight of many. The device's name may be humorous, but it is unclear as to what the ultimate purpose of the device is. Perhaps this is one of those cases where "just because I/you can" applies. Personally, it doesn't matter. If you can come up with something as complicated and cool as this, "Just because I/you can" is totally acceptable!
What do you think Schäuble Junior will/can be used for?