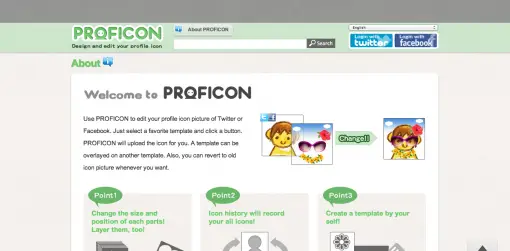 How much attention do you pay to your profile pictures or icons? How often do you change yours on Facebook, Twitter, and whatever other social network you use?
I know some people who constantly change profile icon, for one reason or another. Now, you can always display your face for the whole world to see, but when you're feeling artsy and fun, there are ways to add a little bit of quirkiness to your profile icon.
Enter P-icon.net.
This site is also dubbed PROFICON which is, as you might have deduced already, a portmanteau of profile and icon. Basically, the site provide tools for anyone to create and design an icon that can be used for Twitter or Facebook.
It is free to use, and you simply have to login using your Facebook or Twitter account. Once you have done that, you can choose from a horde of options.
PROFICON allows you to specify the size and position of each part of your profile icon, and there is the additional capability of layering. Can you imagine the possibilities when it comes to design?
You can choose from a wide variety of designs, with general categories including decorative, accessories, and messages. For example, if you like putting frames around your photo ((I personally don't, but I know it works well for some people.)), here are some of your options.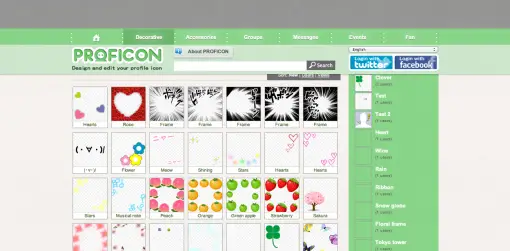 Other interesting details you can add to your profile icon design include animals, zodiac signs and symbols, flags, and even announcements such as "I'm pregnant!" ((Now that is something I am totally not sure about, but whatever floats your boat!))
Once you have logged in using Facebook or Twitter, you can also take advantage of the fact that the system takes notes of the icons you have previously used. Every time you create a new image then, PROFICON can help you find your preferred designs, thanks to its history feature.
If you are feeling really creative and want to put your own unique stamp on your creation, then you can go ahead and make your own template.
One thing's for sure: with PROFICON, your profile image will catch a lot of attention!